Reviews
John Etheridge, Trio North (26th November 2014)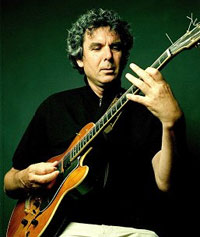 As ever Etheridge's rhythm section were rock solid, drummer Dave Tyas relentless in providing energetic drive overlaid with sensitive colour and accent (especially on 'In Your Own Sweet Way' and 'Sister Sadie'), and bass guitarist Ben Crosland was meticulously self disciplined in the exploitation of the 'fretlessness' of his instrument, and demonstrated deep melodic alertness in his exchanges of perfectly judged lead phrases with Etheridge (esp. on 'In Your Own Sweet Way'), and structured solos which brought additional meaning to the numbers in which they were embedded (as in his excellent work on 'See My Baby Once Again') and his soft reflective contributions to the otherwise rocky interpretation of 'Sister Sadie'.

But of course Etheridge was firmly centre stage, and every time I hear him play in the intimate cellar-bar at The Cask, I feel privileged - not just because he is so good but also because even when he plays a small venue he works so hard and with so much honesty.

On this occasion he was very relaxed, perhaps playing further behind the beat than he normally does, seemingly in no hurry - though in his own time he did reach his usual sheer speed and dazzling dexterity; clipped razor sharp phrasing through 'You Really Got Me' in his own 'The Venerable Bede' a solo which climaxed in a sparkling rapid-fire deluge of precisely directed notes, and some vicariously mean and bitchy work on 'Sister Sadie'. It seemed to me as if Etheridge's laid back mind set gave him more space to indulge the 3D synaesthetic dimensions of the electric guitarists art, the dimension so well exploited, for example, by both Hendrix and Zappa . . . that is to say, his style seemed to me to be more visual than usual.

Other highlights? In my notes I described his solo in 'In a Sentimental Mood' as hovering in some dark place without ever falling, blue mooded, driftily melodic, notes scattered like rainbow drops of dew...and as always his interpretation of 'Little Wing' was totally captivating, and the encores, 'a shuffly thing in A' and 'Johnny B Good' tied off a great evening on a perfect high.
'Til next year then, weather and influenza permitting...

Di Watson
0 Comments
Posted on 21 Jan 2015 by admin