Reviews
The Tom Green Septet (25th February, 2015)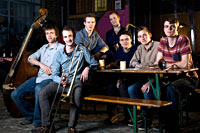 This youthful band had send pre-publicity that promised "warm, melodic sounds, colour and harmony and the full range of textures available to a seven piece group."

All those were present, only the promised "propulsive grooves" were absent. Indeed, they seemed determined not to swing, putting their emphasis instead on impeccable musicianship as they played Tom Green's compositions.

Along with the leader's trombone were Matthew Herd - alto & soprano sax, Sam Miles - tenor sax and James Davison on trumpet and flugelhorn. The rhythm section had Liam Dunachie - piano, Misha Mullov - Abbado - double bass and drummer Scott Chapman.

Their music slightly recalled the New Wave of the 1960s that I struggled with as a much younger man: listening to such musicians as Pharoah Saunders, Archie Shepp, Ornette Colman and Albert Ayler.

As with that determinedly ' contemporary' music, here I was - decades later - still struggling to comprehend horns that jostled over a dense rhythmic groundswell that threatened to overpower everyone.

The band's passionate commitment to this material was clear and the fact that it was far outside my comfort zone is a sad reflection on my rather narrow appreciation of jazz.

For those who appreciate a modern approach, the band has much to offer, in particular their melodic invention, rich textures and their group empathy.
Dick Armstrong
0 Comments
Posted on 28 Feb 2015 by admin