Welcome to Scarborough Jazz at the Cask
"
Just as I imagined an authentic jazz club would be...warm and welcoming...great crowd...always someone to chat to...fantastic programme with lots of variety.
"
The Cask has a range of real ales and a comprehensive food menu with wheelchair access and facilities for disabled people. Every Wednesday, music starts at 8.45pm. Find us here...
30th anniversary video
Video by Dennis Lowe celebrates 30 years of Scarborough jazz Club. More...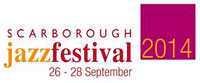 Coming next...
Weds 17th September| 8.45pm | £5 on the door
Ron Burnett & James Lancaster
With his trombone skills and amiable singing style, Ron is a club favourite; trumpeter James is also a stalwart of the Northern jazz scene. Together they'll play an accessible repertoire drawn from a hundred years of jazz history.
More...
Autumn 2014 programme
As many of you may know we now have very little external funding, so at the last committee meeting we decided to increase our one front-liner nights to £4, but keep our two front-liner charge at £5. Please note however that you can enjoy almost anything we offer for less money than a trip to the cinema !